Jose Parla, making of One Union of the Senses, 2015
Commissioned by ONE World Trade Center, New York City
Writers Bench, Grand Concourse and 149th street, 2020
4 x 6 feet acrylic, college, ink, and enamel on canvas
ONE: Union of the Senses, 2015
One World Trade Center, New York City 16 x 90 feet
Anonymous Vernacular, 2019
6 x 12 feet / Mixed Media on Canvas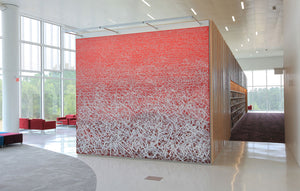 Nature of Language, 2013
16 x 16 feet / Mixed Media on Wood
Mirrors, Italy, 2017
6 x 12 ft. Acrylic, enamel, plaster and collage on canvas
José Parlá: PAINTING IN the LOBBY of ONE WTC, 2014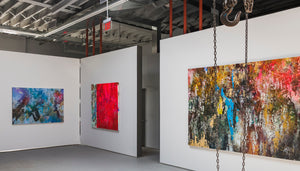 Parlá Studios
Brooklyn, New York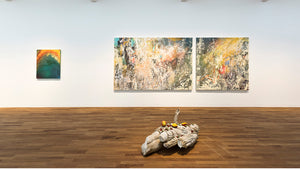 Echo of Impressions
Reflections, Gana Art, Seoul, Dan Colen, José Parlá, Tony Matelli, curated by Matt Black
José Parlá Work in Progress, 2020
José Parlá: The Awakening, 2020 collage acrylic paint, enamel, ink and plaster on canvas
José Parlá is a critically acclaimed, multidisciplinary artist in painting, large scale murals, photography, video and sculpture. Layers of paint, gestural drawing and found ephemera combine to evoke the histories of urban environments. Using the backdrop of world cities, he creates abstractions that can appear to be photorealist fragments of what he sees in the chaos and rush of the metropolis. His work reflects the ephemeral layers of walls that show a place that was, but no longer is—built over, renewed in some other configuration, in the present, engaging memory and imagination with the contemporary.
His work has been exhibited at the High Museum of Art, Atlanta, Georgia; The SCAD Museum of Art, Savannah College of Art & Design, Georgia; The Neuberger Museum of Art, Purchase, New York; National YoungArts Foundation, Miami, FL; Van Every/Smith Galleries, Davidson College, North Carolina; and The Havana Biennial, Havana, Cuba, among others.  Parlá's work is in several public collections including, The British Museum, London, United Kingdom; The Albright-Knox Art Gallery, Buffalo, New York, POLA Museum of Art, Hakone, Japan; and The National Museum of Fine Arts, Havana, Cuba.
Collaborative projects include, The 11th Havana Biennial with Wrinkles of the City: Havana, Cuba project, which was completed in 2012 between Parlá and French artist JR. Parlá also worked with the Caldera Arts Program at The Portland Art Museum where he collaborated with participating youth for his Signature Roots, workshop and installation.  
Permanent Public Arts projects include commissions by ONE World Trade Center, the University of Texas at Austin, the Barclays Center in Brooklyn, Brooklyn Academy of Music, BAM Fisher,  North Carolina State University's Hunt Library by Snøhetta; and at Concord City Place, Toronto, Canada.
Parlá (born 1973) studied at Miami Dade Community College, New World School of the Arts and Savannah College of Art & Design.
"Caught very much in the moment, Parlá's time is always transitory, a measure of echoes rather than certainties, a resonance of history where absence constitutes a more formidable presence than anything so shiny and new as the present." - Carlo McCormick
"Like Gerhard Richter, Parlá sees our art-historical notions of abstraction and abstract expressionism as having inextricably and poetically woven themselves in our contemporary understanding of the real, the authentic, the dramatic, the historic, the classic, the modern, the global, the magical, the African, the human." - Greg Tate